So, you've started to identify the fraud in your app install campaigns. Great. Now you just have to get your money back from the suppliers.
Unfortunately, if you're doing it manually, this dispute process is very time-consuming and arduous. It most often means sifting through campaign data to find suspicious installs, or anything that has broken the basic fraud rules agreed with networks. Following which, the agency or brand – whoever is managing the campaign – has an often lengthy negotiation with the ad network over which installs should be paid for, and whether there's enough evidence to back up these disputes.
The problem with probabilistic
This becomes even more difficult if you're using basic compliance metrics, as are nearly all advertisers, networks and other fraud solutions in the market. These are simple probabilistic rules used to identify suspicious installs – such as click-time-to-install-time thresholds. The problem is, they're inaccurate and ineffective. It's like trying to perform surgery with a mallet.
The result is that not only do a large number of fraudulent installs get missed, but also some false positives get included in the dispute reports.
If you're trying to reduce the impact of fraud with these probabilistic methods you will be omitting a significant amount of fraudulent activity. More often than not these rules are also included as conditions of delivery on the campaign IO. This gives unscrupulous sources the opportunity to deliver fraudulent installs whilst ensuring that they don't trigger any of the fraud rules. The bad actors continue to win, and the advertiser is none-the-wiser having exposed their hand.
The right tool for the job
This is why Machine works differently - collecting multiple signals against each install, providing up to 14 individual pieces of corroborating evidence for a single fraudulent install. This deterministic approach to fraud detection leads to a much deeper understanding of why that install is fraudulent, leaving no room for argument.
For the delicate surgery of fraud detection, we provide the tool you actually need – a scalpel, not a mallet.
In fact, the granularity of Machine's data means that networks can use our dispute reports to improve their own traffic sources – thereby allowing the whole supply chain to take action against install fraud. This is what is ultimately required to engineer real change in the market.
Saving time and money
One of Machine's clients is a gaming company which delivers around 350,000 non-organic installs a month. They formerly handled fraud analysis and supplier disputes manually, resulting in a dispute process that lasted, on average, eight working days. Overall, between 4-8% of monthly installs were detected as fraudulent and successfully disputed, saving them $20,000 per month.
With Machine, 23% of installs were detected as fraudulent – 100% of them were successfully disputed, resulted in savings of $177,100. For every $1 spent with Machine, the company saved $13.62.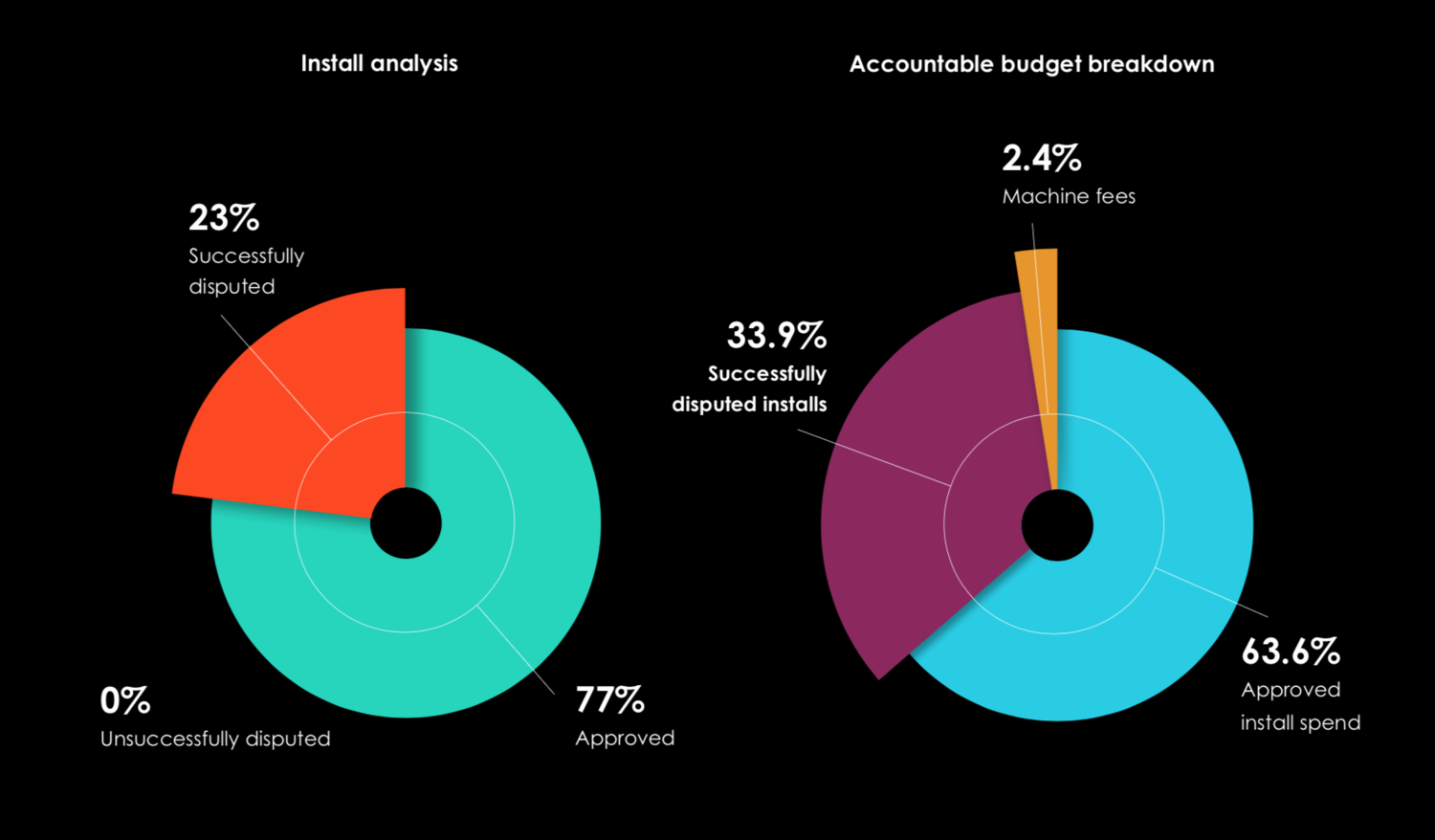 By automating the process the client saved time, eliminated any human error, and increased the frequency, accuracy and quantity of identification. As fraud is detected in real-time, the dispute process isn't left until the end of the month, meaning fraudulent sources can be identified – and stopped – much quicker and earlier.
Machine want to lead a shift away from lengthy and ineffective install dispute processes requiring extensive negotiation. The ultimate goal? That once you've chosen to partner with Machine, you won't even have to think about app install fraud, you have the confidence that you're protected and are free to focus on with what you specialise in - driving user acquisition for your brand.