Many mobile marketers may be unfamiliar with Apple Search Ads (ASA) as it is a relatively new field. However, with the release of iOS 14.5 in April 2021, interest in ASA results and App Store Optimization (ASO) has increased. Despite being user-friendly, there are still many questions that arise about ASA. Here are some answers to common questions clients have been asking.
How is Apple Search Ads different from other pay-per-click channels such as Facebook and Google?
Apple Search Ads places a greater emphasis on keywords than other PPC channels, as the demographic data is more limited. ASA uses multiple algorithms to determine which apps win bids and rank within the store search results. While bid amount is a factor, Apple also considers the app's conversion rate, metadata, and user feedback like ratings and reviews to determine the app's placement for specific keywords.
What are the most important key performance indicators (KPIs) for Apple Search Ads campaigns?
The KPIs you want to track may vary depending on the category of your app and its specific needs. However, the most universal metric to keep an eye on is the conversion rate, which is the number of downloads divided by the number of impressions on the app's product page or listing. Conversion rate is a key metric used by Apple's algorithms to rank the app in organic results and winning bids.
Can you explain what full funnel bidding is, and how it relates to Apple Search Ads campaigns?
Full funnel bidding refers to the customer journey and how it pertains to your app. For many, an install is just the beginning of that journey. As users open, interact, make in-app purchases, or subscribe within the app, the value they create for the app increases.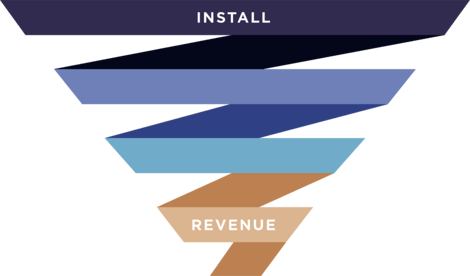 Different keywords will attract different users who will fill out different parts of the funnel. To ensure that you are spending the right amount on the right keywords, you should be aware of the part of the funnel you are targeting.
How does Apple determine which apps are in the top 10 for the search homepage?
The top 10 apps are determined based on installs and install velocity over the past few days. Being in the top 10 for your keyword search results is more important as it targets a specific interest group. However, reaching the top 10 for all apps is more of an achievement rather than a sales strategy.
What's the most important difference between organic rank and paid rank on Apple Search Ads?
Organic rank is based on text relevance, which includes the words that make up your app's title, keywords, and primary category, as well as user behavior such as taps and installs. Paid rank is where bidding for certain keywords comes into play, but placement and winning a bid is heavily influenced by the tap-to-install rate as well. Apple wants to ensure that the results are relevant, so if you keep bidding on a keyword that doesn't generate user interest, Apple will take that into account.
What are the benefits of using an ASA campaign management platform (CMP) such as Search Ads Maven?
Using a CMP, such as Search Ads Maven, can save a significant amount of time and provide optimization tools for your ASA efforts. These tools include automation rules, the ability to bulk upload keywords, the ability to copy and duplicate campaigns, keyword and competitor research, easier performance visualization and analysis, and MMP integration options to optimize ASA on full-funnel performance data.
How does integrating my mobile measurement partner (MMP) with ASA improve my campaign?
Integrating your MMP with your ASA campaign allows you to optimize your efforts by using a wider range of post-install data, including conversion events within the app itself. What this means is that you can measure the success of your keyword bids against revenue generating events rather than just installs.
What kind of automation options are available in Search Ads Maven for ASA campaigns?
In Search Ads Maven, you have a wide range of automation capabilities that can be applied to various levels of your ASA campaigns. You can create automation rules for your full organization, individual apps, campaigns, ad groups, or even individual keywords. Using either our scripted automation or campaign automation tool, this allows you to tailor the tool to your specific needs.
Using metrics from ASA and custom goals (if you have integrated with a mobile measurement partner) you can set the conditions for your automation rule. You can also choose to receive notifications via email or Slack, or have the rule automatically make changes to your campaigns.
For example:
On a campaign level, you can increase the budget when installs reach a certain amount and post-install revenue is above a threshold. This way, you can control your spend based on return on ad spend (ROAS) metrics and automatically allocate more budget to campaigns that are performing well. Similarly, you can also reduce ad spend on underperforming campaigns to optimize your budget.
On an app level, you can receive an email/slack notification when your spend for the entire app goes beyond a certain level. This allows you to keep track of your ASA campaigns without having to constantly log in and check.
On a keyword level, you can set a rule to send out a notification when the cost per action (CPA) for a specific keyword reaches a certain amount. This helps you stay on top of spending on competitive keywords and make adjustments as needed.
Take your ASA to the next level.
Search Ads Maven (SAM) offers all these features (and more) to help you take your ASA to the next level.
SAM is plug and play, so you can start using it in a few minutes without disrupting current campaigns.
Find out more...

If you'd like to learn how Search Ads Maven can help you maximise ASA performance, you can arrange a call here.