Gary Danks, Founder of Machine offers advice to gambling operators on how to avoid the pitfalls of app fraud.
You'll have heard about 'app fraud' or 'fraudulent app installs'. It's a headache for any gaming company paying to acquire app users. We have clients ranging from ambitious startups to the industry's biggest players, and it's a problem for all of them.
But do you know what app fraud is, how much it's costing you and how to stop it?
A fraudulent app install is when you pay a supplier for an install which is worthless. There are different types of suppliers – ad networks, DSPs, publishers and social channels. There are lots of different types of fraud – though I won't go into specifics here. But what's common is that every dollar you spend on a fraudulent install is a dollar less to spend on genuine users. It's something I saw all the time when I was working in mobile advertising – businesses were wasting money they couldn't afford on app users that didn't exist. And they didn't even know there was a problem. I decided to do something about it, and that started me on a long journey into the specifics of app fraud.
Collecting the data
I started a company to create an anti-fraud platform called 'Machine'. It only collects data on app install fraud, and what we've discovered in the last four years of monitoring has amazed me.
I knew there would be a problem, but the numbers were far higher than I'd expected. The gambling industry is starting to grapple with the scale of the problem, and we're working with more and more gaming partners. Most companies we speak to already have basic fraud prevention but feel like they're missing the full picture – and so ask for help.
Let's look at an example. This is data from one our gambling clients which they've agreed to share anonymously: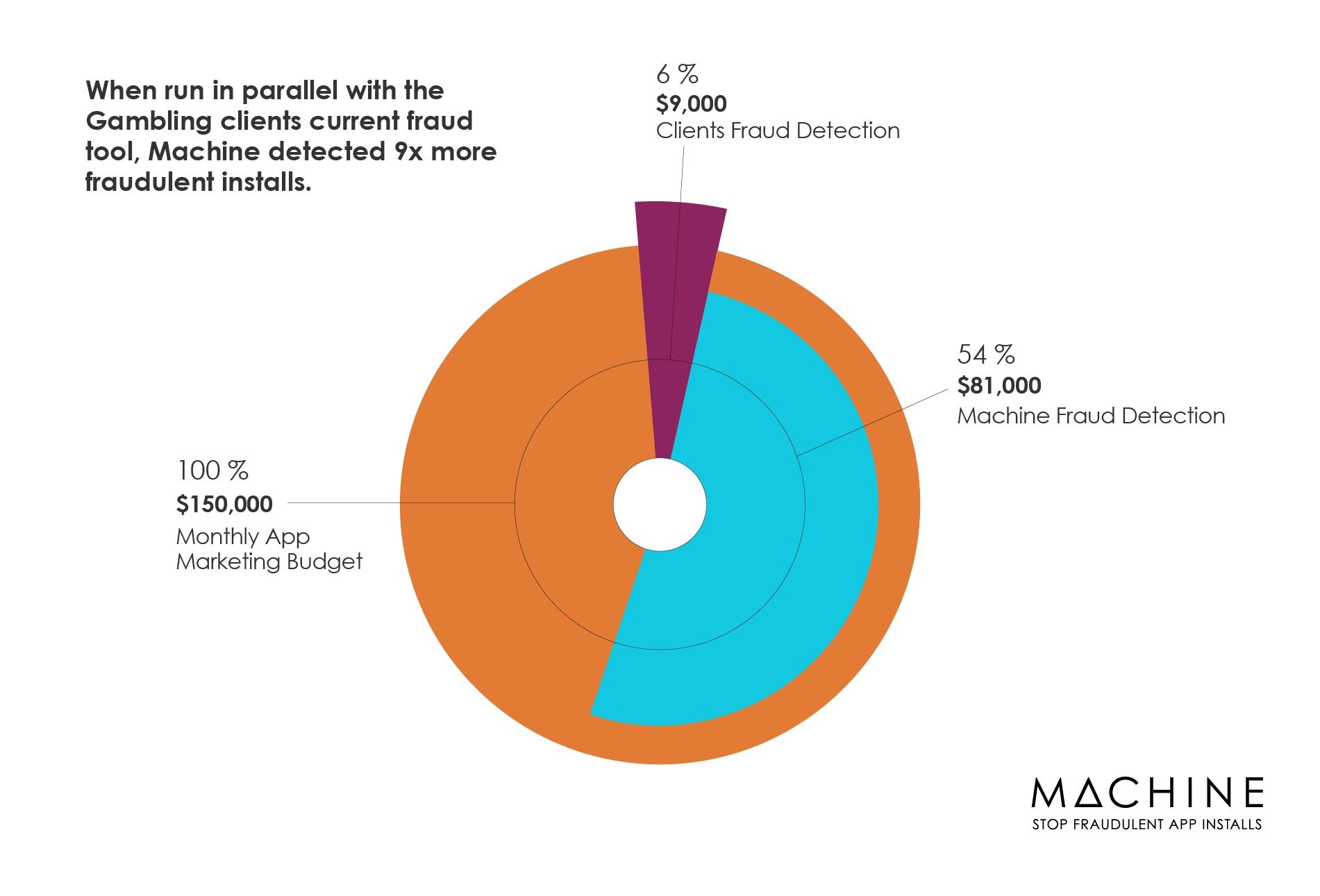 They were spending $150,000 a month on UA marketing with a target of 23,000 installs. Their fraud detection showed that 6% of their installs were fraudulent: $9,000 a month of fraud. But they didn't think these numbers were accurate, and so asked us to run Machine alongside their existing fraud service.
In a month, we uncovered the real scale of the problem. Instead of 6% fraud, we found 54% of their installs were fraudulent. More than one in two of the users they were paying for were fakes = $81,000 a month.
How to spend on users, not fraud
These figures are common in the gambling sector – and companies want to know how to spend on genuine users instead of fraud.
The first step is to cut out the fraudulent suppliers. You'll slash the money you waste, but you can be left with money to spend and no channels to spend it in. That's when you need to find more genuine channels – after all, there's no point moving spend to another supplier if they're just as unreliable. Our approach is to index suppliers according to the level of fraud they suffer. Once you know this, you can bring your spend back up with genuine suppliers – and so buy many more genuine installs without spending any more money.
App fraud is a serious problem for the gambling industry. By understanding what app fraud is and how to tackle it, we can start fighting back against the fraudsters.
About Gary Danks: Gary is founder of Machine, an app-specific fraud detection platform with global sports betting and gambling clients including the Flutter Group.  Find out more at machineadvertising.com
Ever wondered why your user acquisition marketing isn't working?
At Machine Advertising we work with some of the worlds largest sports betting and gambling apps (over 25 in total). Our technology protects their user acquisition (UA) marketing from being wasted on fraudulent app installs and increases the number of valid users acquired.
Firstly, what is a fraudulent app install? A fraudulent app install is when a supplier (ad-networks, DSP's, publishers and social channels) charges advertisers for app installs that are completely worthless. This can happen in many different ways but for the purpose of this article, that technical detail is not necessary. The point is, it's happening on a massive scale and costing gambling companies millions of dollars every month.
All gambling brands that spend money on user acquisition app marketing are exposed to these fraudulent practises and need to updated protect against it. To give some context on the size of the problem, I'm going to share some anonymised data from one of our gambling clients. This is a typical journey a client goes on when discovering and taking action against install fraud.
The client was spending $150,000 a month on UA marketing, with a target of approximately 23,000 app installs. They were aware of install fraud and so they were already using a fraud detection service.
In 4 weeks, we uncovered x9 more fraudulent installs than the client was used to. Of the 23,000 installs Machine uncovered 54% as fraudulent, a value of $81,000. While the client's current service picked up only 6%.
Once fraudulent supply sources are identified, we block and replace them with legitimate supply partners. Making sure the budget is only used on valid installs.
---
Published in EGR, 7th February 2020
At Machine, we can help you detect app install fraud, and make sure your UA budget is converting into real users' budget.