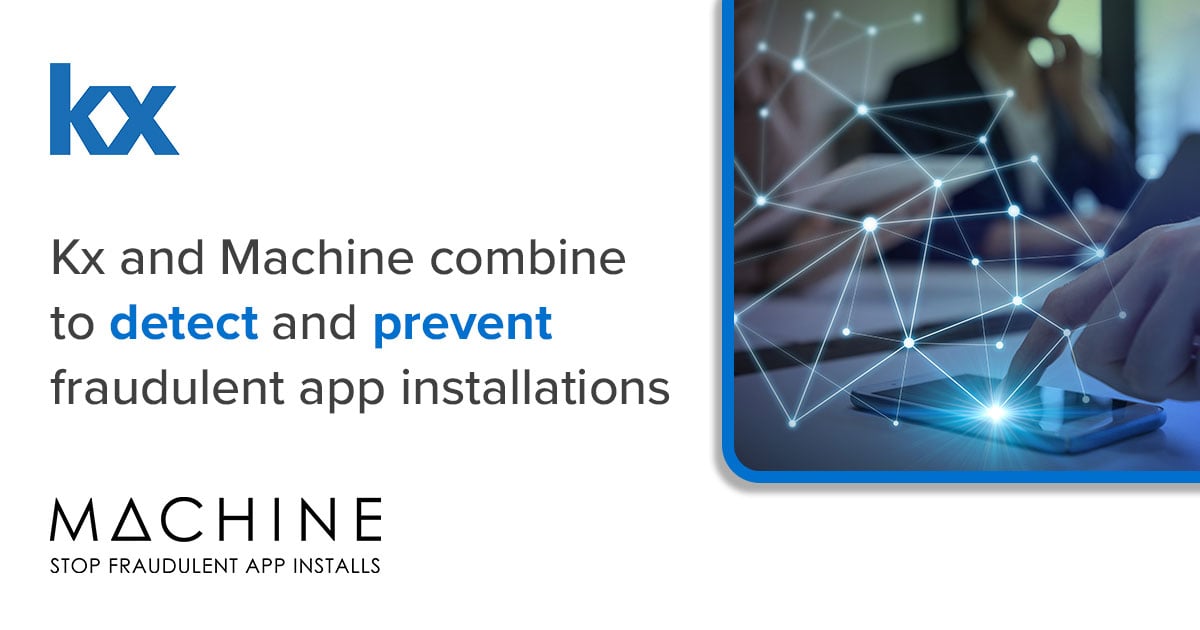 Kx Selected by Machine to Power its Fraud-Prevention Platform for Advertising
Kx, a division of First Derivatives plc, today announces that Machine Advertising ltd, the leading platform for app fraud detection and prevention, has selected Kx technology to power its anti-fraud platform. Using Kx technology, Machine is able to analyse hundreds of billions of data points from multiple sources in real time, to detect and prevent fraudulent app installs, ultimately ensuring app marketing budgets reach real target users.
The paid app download market is reported to be worth $64bn by 2020. On average, where fraud detection and removal strategies are not employed, Machine see 53 percent of unfiltered campaign spend being wasted to fraud, or $33.9bn.
Using Kx technology allows every Machine data point to become immediately accessible, 'hot data', enabling far more efficient collection, storage and analysis. This technical capability allows Machine's AI platform to perform far more complex mathematical functions extremely quickly, which, in turn, reduces complexity and speeds up new product development., Kx is optimised to provide actionable intelligence in real time, enabling the Machine Advertising platform to detect and block fraud pre-bid and before the client is affected.
Under the agreement, Machine has migrated its primary datastore to kdb+, the world's fastest time-series database, to increase scalability and support its growing list of clients and resulting data needs.
Gary Danks, Managing Director & Founder, Machine, said "It is great to be working with an expert like Kx, and its parent company First Derivatives, who saw a big opportunity in Machine's work combating app install fraud – and we're in great company alongside the other companies working with Kx."
Kx technology is already used across various industries by organizations like NASA FDL, Aston Martin Red Bull Racing, Citadel and Thomson Reuters.
"The agreement with Machine shows the extended applicability of Kx technology at solving varying data challenges across MarTech," says Brian Conlon, CEO of Kx. "It's clearly a growing space, and we're delighted to be working with an innovative business like Machine to help solve the problem of app install fraud."
"Kdb+ is 4x more efficient at storing data, and its indexes are 20x smaller," said Robert Pawlowicz, Technical Director, Machine. "When you're handling hundreds of terabytes of data, that means huge reductions in storage space and hosting fees. As digital advertising is a time series business, your database is always going to be a limiting factor. Partnering with KX to remove this constraint means we will be able to develop and launch new solutions for eradicating fraudulent app installs that would never previously have been possible"
About Kx
Kx is a division of FD, a global technology provider with 20 years of experience working with some of the world's largest finance, technology, retail, pharma, manufacturing and energy institutions. Kx technology, incorporating the kdb+ time-series database, is a leader in high-performance, in-memory computing, streaming analytics and operational intelligence. Kx delivers the best possible performance and flexibility for high-volume, data-intensive analytics and applications across multiple industries. The Group operates from 14 offices across Europe, North America and Asia Pacific, including its headquarters in Newry, and employs more than 2,600 people worldwide.
For more information about Kx please visit www.kx.com. For general enquiries, write to info@kx.com. For press inquiries, write to pr@firstderivatives.com.